Benefits of Hikvision NVR and IP Camera
NVRs work with internet protocol (IP) cameras that can send and receive information across a network, and record high-quality visual and audio footage. Installing a CCTV camera and NVR ensures high-quality recorded video footage.
Prevent or deter crime is one of the most common reason for installing a CCTV system in the premises. With a CCTV system installed in the perimeter of the property, you can keep an eye out for suspicious beings or activities nearby. When a crime takes place, you can identify the culprit with the recorded footage as evidence.
An IP Camera and NVR is the solution, you can monitor your business or homes while on the go or on-site with high quality resolution; Be notified with alarms when triggered by custom behaviors, system flexibility to retain recordings when experiencing connection issues and more.
Processes Video Data at the Camera
IP cameras are capable of encoding and processing video data, which means network video recorders don't require an encoder. Rather, processed footage is streamed to the NVR recorder for viewing and storing.
Provides Remote Access to Footage
Since NVR camera systems are usually connected to the internet, footage can be accessed remotely via mobile devices and desktop applications.
Wireless Connections
In an NVR system, each IP camera is connected individually to a single network which is configured, either wirelessly or via Cat5e and Cat6 ethernet cables.
High-Resolution Image Quality
Different models of IP cameras offer varying degrees of resolution. The image quality typically recorded by NVR systems are better when compared to analog DVR cameras, which record with lower resolutions and frame rates.
Increased Flexibility
IP cameras rely on network video recorders (NVRs) to retain video footage. Depending on whether cameras are installed near or far from the local on-premise recorder, businesses can determine whether wired wireless installation makes more sense.
Advanced Features and Security
Many IP cameras have advanced features, such as facial recognition, motion detection and night vision capabilities. When setup with cloud storage solutions, NVR security systems can also be configured with password protection, two-step verification and encryption to prevent unauthorized access.
Remote Access
With cloud storage set up, administrators with access can view footage remotely using smart devices—any time, any place when on demand.
Power Over Ethernet
Cat5e and Cat6 Ethernet cables can provide internet connection and power IP cameras at the same time, which cuts down on the amount of wiring and power is needed.
Why Hikvision NVR and IP Camera?
Hikvision 4K System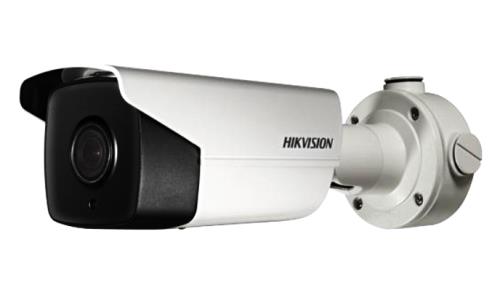 Without a 4K NVR, 4K cameras cannot be used to their fullest potential. Thus, Hikvision has packed ultra-high definition and smart technology into a set of 4K products.
Ultra-High Definition (UHD)
Hikvision provides users with incredible clear images with high quality and details, facilitating video content analytics and better use of video data.
H.265+ Smart Codec
Hikvision incorporate H.265+ compression technology in their products, which allows users to better manage the UHD video footage.
4K Output
With Hikvision's 4K NVR, transmit video from 4K cameras or 4K codecs with a 4K output.
Full Smart Feature-set
Equipped with smart features such as Smart Tracking, False Alarm Filtering, and smart detections including intrusion, line crossing, region entrance, region exit and more.
Application Scenario
For large surveillance areas such as city, stadium, parking lots where clear, high resolution and intelligence surveillance is necessary.
For home application , ensures the security and protection of the vicinity of homes from crimes and intruders with the use of remote viewing and customizable alarms integrated with human and vehicle recognition and smart detection.
For business application, high resolution image quality is useful to monitor the business when not on-site, helps detect crimes and identity culprit.